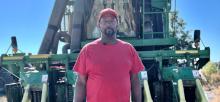 Farming is not for the faint of heart.
The long hours and unpredictability of the weather are enough to turn many people away from choosing it as a profession. Add in a heavy dose of rising fuel costs, aging equipment and the extremely high price of new technologies, and you can understand why farming is one of the most stressful jobs in America.
Darrin Davis, owner of Lakeview Farms in Lakeview, Arkansas, says there is nothing else he would rather do, though.