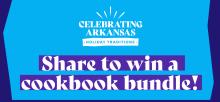 Want to be featured on an upcoming Arkansas PBS program "Celebrating Arkansas: Holiday Traditions" and receive one of 10 Arkansas PBS cookbook bundles?
Share your recipes, photos or videos today of your favorite holiday traditions and you'll be entered to win. Use our easy online form to submit now through Dec. 31 at myarkansaspbs.org/celebratingarkansas.
Our random drawing will take place Jan. 13, and winners will be notified via email.