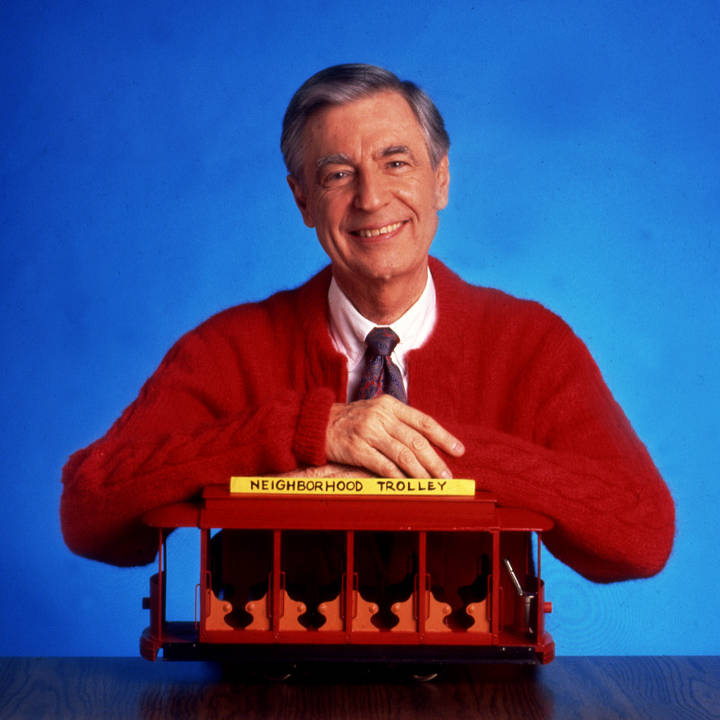 Won't you help a neighbor?
Fred Rogers began the Mister Rogers' Neighborhood Sweater Drive in 1997 as a way to encourage the neighborly spirit.
This November, join Arkansas PBS and libraries across the state as we collect new and gently used sweaters and winter clothing to share with those in need. Every sweater collected will be donated through The Salvation Army of Arkansas or local charities.
Participating locations
Alma Public Library
Arkansas Flag and Banner
Atkins - Pope County Library System
Batesville - Independence County Library
Benton - Saline County Library
Booneville - Logan County Library
Bryant - Saline County Library
Cabot Public Library
Calico Rock Elementary
Carlisle Public Library
Clinton - Van Buren County Library
Conway - Faulkner County Library
Conway - UCA Torreyson Library
Conway - Winrock Automotive, Honda World
Damascus Public Library
DeQueen - Sevier County Library System
Dover - Pope County Library System
Dumas Branch Library
El Dorado - Barton Library
Eureka Springs Carnegie Library
Fayetteville Public Library
First Friends Preschool
Forrest City Public Library
Gillham - Sevier County Library System
Greenbrier - Faulkner County Library
Greenwood - Scott-Sebastian Regional Library
Harrison - Boone County Library
Hector - Pope County Library System
Horatio - Sevier County Library System
Horseshoe Bend Library
Huntsville - Madison County Public Library
Huttig Library
Izard County Consolidated Elementary (4H associated)
Jasper - Newton County Library
Jonesboro - Craighead County Public Library
Junction City - Harper Memorial Library
Little Rock - (CALS) Adolphine F. Terry Branch Library
Little Rock - (CALS) Dee Brown Branch Library
Little Rock - (CALS) Esther Dixon Branch Library
Little Rock - (CALS) Hillary Rodham Clinton Children's Library and Learning Center
Little Rock - (CALS) John Gould Fletcher Branch Library
Little Rock - (CALS) Main Branch Library
Little Rock - (CALS) Oley E. Rooker Branch Library
Little Rock - (CALS) Roosevelt Thompson Branch Library
Little Rock - (CALS) Sue Cowan Williams Branch Library
Little Rock - (CALS) Sydney Sanders McMath Branch Library
Little Rock - The Arkansas State Library
Lockesburg - Sevier County Library System
Lonoke Public Library
Malvern - Arkansas State University Three Rivers Library
Malvern - Hot Springs County Public Library
Maumelle - (CALS) Maumelle Branch Library
Mayflower Public Library
Melbourne Elementary
Monticello - South Arkansas Regional Library
Mount Vernon - Faulkner County Library
Mountain Home - Baxter County Library
Mountainburg Public Library
Mulberry - The Ralph D. Graf Library of Mulberry
Nashville - Howard County Public Library
Norh Little Rock - William F. Laman Public Library
Norphlet Library
North Little Rock - Argenta Library
Ozark - Franklin County Library
Paris - Gattis-Logan County Library
Pea Ridge Library
Perryville - (CALS) Max Milam Library
Piggot Public Library
Pocahontas - Randolph County Library
Prairie Grove Public Library
Rector Public Library
Russellville - Pope County Library System
Sheridan - Grant County Library
Sherwood - (CALS) Amy Sanders Branch Library
Smackover Library
Springdale Public Library
St. Paul Public Library
Strong Library
Stuttgart Public Library
Twin Groves - Faulkner County Library
Van Buren Public Library
Vilonia - Faulkner County Library
Warren Public Library
Wrightsville - (CALS) Millie Brooks Library
Sponsors