April is a time to celebrate our planet and protect it. This month at Arkansas PBS, meet those working for a brighter tomorrow in the U.S and see sights from around the world. Programming incudes releases such as "Changing Planet" with Dr. M. Sanjayan and "American Experience: The Sun Queen," highlighting trailblazer Maria Telkes. Explore some of the beauty that is Earth, from its rivers in "Rivers of Life" to its coral reefs in "Nature: Treasure of the Caribbean."
"American Experience: The Sun Queen" 
 
For nearly 50 years, chemical engineer and inventor Maria Telkes applied her prodigious intellect to harnessing the power of the sun. She designed and built the world's first successfully solar-heated modern residence and identified a promising new chemical that, for the first time, could store solar heat like a battery. And yet, along the way, she was undercut and thwarted by her boss and colleagues — all men — at MIT. Despite these obstacles, Telkes persevered and, upon her death in 1995, held more than 20 patents. She is now recognized as a visionary pioneer in sustainable energy. An unexpected and forgotten heroine, Telkes was remarkable in her vision and tenacity — a scientist and a woman in every way ahead of her time. Her research and innovations from the 1930s through the '70s continue to shape how we power our lives today.
Wednesday, April 5, at 12 a.m. and Thursday, April 6, at 3 a.m.
"NOVA: Arctic Sinkholes" 
 
Scientists investigate colossal explosions in Siberia and other evidence that rapidly melting soil in the Arctic is releasing vast amounts of methane, a potent greenhouse gas. What are the implications for our climate future?
Watch Wednesday, April 5, at 8 p.m. and again on Friday, April 7, at 4 a.m. and 2:30 p.m.
"The Age of Nature" 
 
In a three-part series, we explore humanity's relationship with nature and wildlife as scientists and conservationists from all over the world examine ways we can restore our planet. Could newfound awareness of nature bring about a new chapter in the human story to slow the effects of climate change?  
In Part 1, "Awakening," a new awareness of nature is helping to restore ecosystems from Panama to China to Mozambique. See how innovative actions are being taken to repair man-made damage and restore reefs, rivers, animal populations and more. Watch it on Thursday, April 6, at 2:30 p.m.
Part 2, "Understanding," explores how a new understanding of nature is helping us find surprising ways to fix it. From the Pacific Northwest to Yellowstone to Scotland, scientists, citizens, and activists are restoring the environment, benefiting humans and animals alike. It starts Thursday, April 6, at 3:30 p.m.
In its final installment, "Changing," discovers why restoring nature could be the best tool to slow global warming. From Borneo to Antarctica, the resilience of the planet is helping us find solutions to cope and even mitigate climate change to provide hope for a more positive future. Watch Friday, April 7, at 3:30 p.m.  
"The Earthshot Prize 2022" 
 
Celebrate the annual ceremony of Prince William's prestigious environmental award: The Earthshot Prize. The star-studded event honors this year's five winners and their innovative solutions to help repair our planet.  
Watch Wednesday, April 12, at 9 p.m. and Friday, April 14, at 1:30 p.m.
"Wild Weather" 
 
The best way to understand weather? Getting inside of it. Watch as scientists illustrate how weather works by performing brave, ambitious (even unlikely) experiments that show how nature transforms simple ingredients like wind, water, and temperature into something spectacular and powerful.  
Watch Friday, April 14, at 3:30 p.m.
"NOVA: Weathering the Future" 
 
The weather is changing: we're seeing longer, hotter heat waves, more intense rainstorms, megafires and multi-year droughts. As the U.S. experiences the full range of impacts, those on the front lines of these destabilizing weather trends around the country are finding new ways to adapt to the challenges the changing weather brings.
Watch Wednesday, April 12, at 8 p.m., Thursday, April 13, at 12 a.m. and Friday, April 14, at 4 a.m. and again at 2:30 p.m. and Friday, April 21, at 3 a.m.
"Changing Planet"   
 
Join Dr. M. Sanjayan, conservation scientist, as he explores efforts to confront climate change in Australia, Brazil, California, and Kenya. Knowledge from Indigenous communities and the latest science combine to create innovative and inspiring solutions.
Watch Wednesday, April 19, at 8 p.m., Thursday, April 20, at 12 a.m. and Friday, April 21, at 1:30 p.m.
"Nature: Niagara Falls" 
 
Embark to this geological wonder and witness its stunning beauty and a wide variety of wildlife mammals, birds, and reptiles that call it home. Three separate waterfalls combine to form the second largest waterfall in the world.
Watch Wednesday, April 19, at 7 p.m., Thursday, April 20, at 1:30 p.m. and Friday, April 21, at 2 a.m.  
"Nature: Treasure of the Caribbean"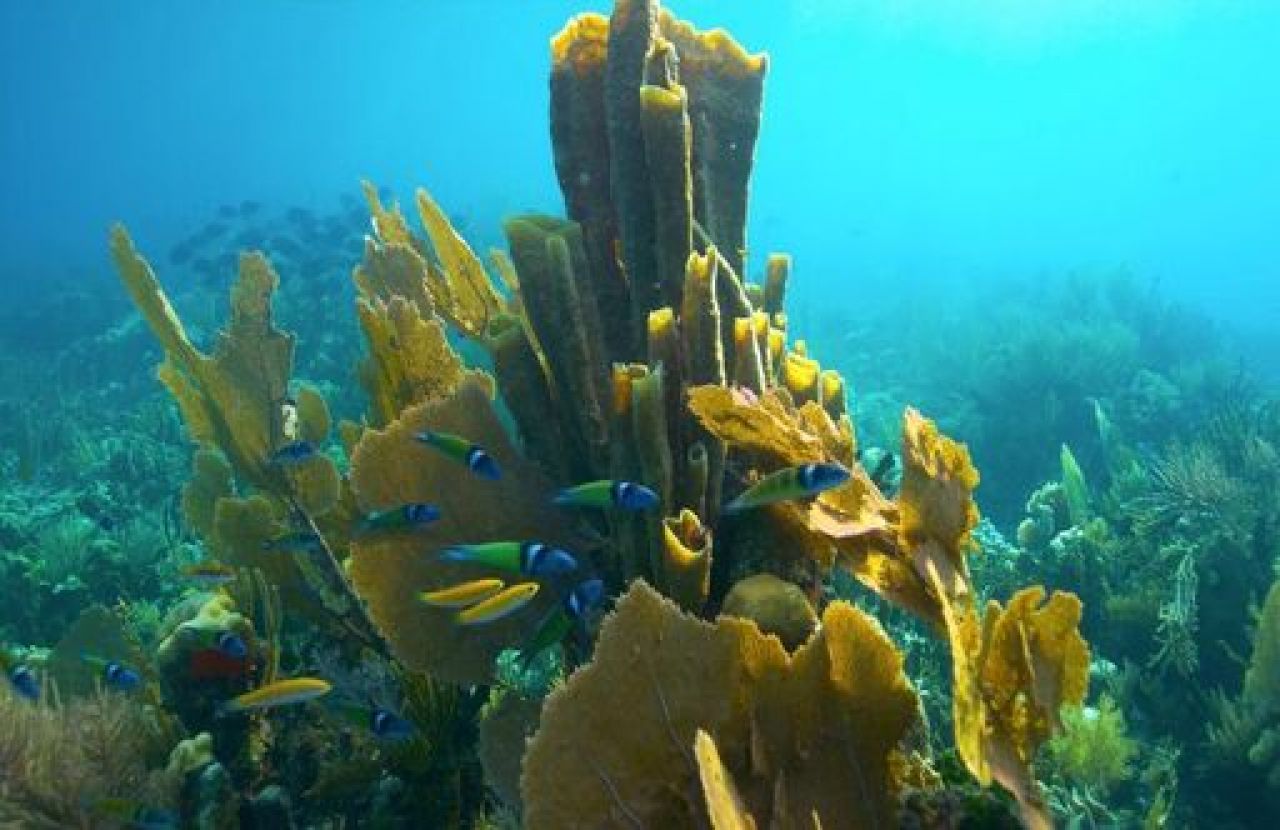 A story of hope in troubling times. The discovery of a coral reef in Belize and Guatemala, larger than the size of Manhattan, marks a new chapter in understanding corals and fish that depend on each other and in saving coral reefs worldwide.
Watch Wednesday, April 26, at 7 p.m., Thursday, April 27, at 1:30 p.m. and Friday, April 28, at 3 a.m.
"NOVA: Chasing Carbon Zero" 
 
The US recently set an ambitious climate goal: to achieve net zero carbon emissions by 2050. But is that feasible? What exactly would it take? Chasing Carbon Zero takes a hard look at the problem and identifies the real-world technologies that could be up to the task. From expanding renewable energy options and designing more energy-efficient buildings, to revolutionizing the transportation sector, to "negative emissions" technologies, the film casts a hopeful but skeptical eye. A wave of innovation is beginning to take hold, but can these solutions be scaled and made available and affordable across the country? The problem is vast, and time is running out. Find out why there is still hope that we can achieve Chasing Carbon Zero in time to avoid the worst impacts of climate change.  
Watch Wednesday, April 26, at 8 p.m. and Friday, April 28, at 4 a.m. and 1:30 p.m.
"Changing Planet" 
 
Every year for over seven years, conservationist Dr. M. Sanjayan anchors a global storytelling effort to monitor seven iconic locations across the planet. In this two-part special, see how the latest science and local voices represent a unique biome and a litmus test for change happening across the planet.
With locations such as the West Coast of America, the Great Barrier Reef, the East African Plains, the Arctic, the Sundarbans and the Ganges, the Amazon Basin, and coastal Southeast Asia, you will see how some locations are heavily protected, are experiencing pioneering schemes to rebuild the habitats or how they could be lost forever.  
Watch Part 1 on Thursday, April 27, at 2:30 p.m. and Part 2 directly after, at 3:30 p.m.  
"Rivers of Life" 
 
A three-episode series, each episode following one of the world's greatest rivers. Meet those who live alongside them, see the extraordinary animals who call it come and view the epic landscapes.  
As the fourth longest river in Africa, the Zambezi is known as the largest curtain of water on earth. From surfers riding mysterious waves in deep gorges, to elephants battling rapids above Victoria falls, the Zambezi is full of stories waiting to be told. Watch the first episode Friday, April 28 at 2:30 p.m.  
Over in Europe, and full of glorious riches and magical surprises, the Danube is the world's most international river. See how its epic journey is like no other - featuring stunning secret tributaries, baby turtles, and a waterfall-riding kayaker. Watch Friday, April 28, at 3:30 p.m.  
In North America, the Yukon is a river of extremes. While it may be a restless giant in the summer, it transforms into a river of ice in the winter. Home to bears, moose and salmon, the Yukon's riches have sustained North American people for centuries. Watch this final episode Friday, April 28, at 4:30 p.m.  
You can view the complete Earth Month schedule and download it here. 
TUNE IN:       
See our most recently updated schedule anytime at myarkansaspbs.org/schedule.  
WAYS TO WATCH:       
Watch broadcasts on ARPBS-1       
Livestream       
PBS App