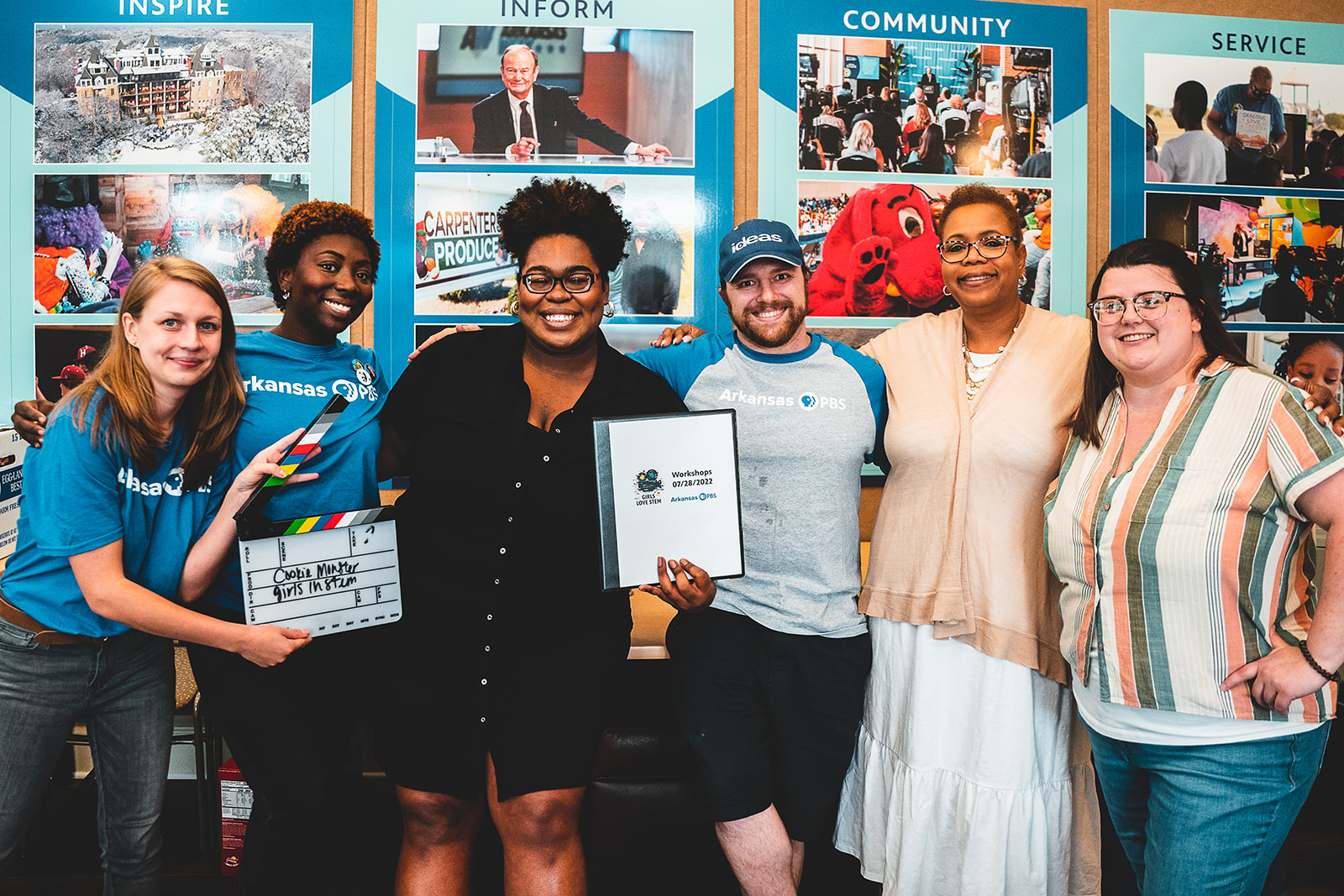 Internship Opportunities
With an Arkansas PBS internship, students experience first-hand the operations of a local PBS multi-media facility. A variety of internship opportunities are available in several departments for any school semester. Supervisors are flexible and work with each student's schedule, experience, and internship requirements. Internships are non-paid and require 10-15 flexible hours per week. Therefore, Arkansas PBS understands the need for outside employment and works to accommodate individual work schedules.
If you are interested in an internship with Arkansas PBS, please complete the Internship Application and return to jkillough@myarkansaspbs.org.
Internship Areas
Intern(s) will assist in the areas of work listed below. Interns in this area will complete their internship by preparing a 30-second program promo for statewide broadcast. Working with a production supervisor, the intern will develop the promo concept; prepare the outline, script and storyboard; select music and video for completion. Final editing of the project will take place on an AVID editing system. The intern may supervise the editing process.

Assist various producers in preparing programs for broadcast, including setting up interviews, reasearching background material for scripts, transcribing video, program development and preparing FCC reports.
Assist producers with phone supervision during live broadcasts, including greeting guests at the front door, escorting them to the proper area, answering phones, collecting questions and handling other requests made by the phone supervisor.
Screen and transcribe videotapes
Answer routine viewer calls

Digital Marketing - social media content creation, blog writing, working with website and YouTube channel
Graphic Design & Production including creation of graphics and videos for promos, digital extras and social media
Public relations and promotional writing including press releases, scripts Community outreach and events
Marketing campaigns for priority projects
Additional duties as needed

Write and produce promtional materials for use on-air, including the completion of at least one videotaped promotional spot
Preview and log promotion tapes from PBS's and Arkansas PBS's promotion library
Research and update program promotion files
Create VOCAs (voice-over credit announcements) for the Arkansas PBS broadcast logs
Dub promotion materials from one format to another for broadcast
Review viewer correspondence and draft responses
Research reference files and program schedules in order to respond to viewer questions and comments
Develop special interest mailing lists by general program topic (example: environment, women's health, etc.)
Review broadcast schedules and send notices to viewers of specific programs to be broadcast
Assist in establishing databases
Preview tapes and write synopses
Assist in data entry for producing program schedule
Research background information for program reports

Assist in broadcast equipment troubleshooting and minor repairs
Travel the state to assist with the transmitter and microwave sites maintenance
Assist with master control in monitor feeds, air quality, switch to live on-air
Ability to manage multiple dubs in progress
Check the quality control of finished dub product
Assist in setting up remote shoots
Operate uplink truck equipment

Operations - Administrative

Assist Director of Operations or Facilities Coordinator with written correspondence, scheduling state vehicles, telephone calls and reports, and record keeping.

Operations - Field/Studio

Assist with film set lighting
Setting up sets and props
Assist in directing and floor directing
Teleprompter operation
Studio camera work
Assist videographers on remote shoots
Assist in the editing process

Finance/Administration - Accounting

Work with accounting staff to process payables, research invoices, code and key payable vouchers, copy supporting materials, and prepare vouchers for mailing
Assist with reconciling funds and bank accounts
Help to provide various financial reports
Maintain files
Assist with processing payroll vouchers
Help prepare tax reports
Work with inventory coordinator to process inventory updates of fixed assets and take physical inventory

Finance/Administration - Personnel/Payroll

Work with Human Resources staff to maintain and calculate biweekly payroll
Collect time sheets and key leave time accrual updates on data base
Maintain personnel files
Collect and report employee statistics
Compose and place job advertising
Log and report applicant statistics
Provide applicant resumes for hiring team review
Assist with contracts for professional services
Assist with scheduling employee training
Help with new employee orientation

Finance/Administration - Purchasing

Work with purchasing agent to maintain vendor data base
Collect quote bids by phone
Help key and distribute purchase orders
Research products and proposals
Assist with writing specifications for sealed bids
Key updates to vendor data base
Solicit new vendors
Assist with orders and inventories of contract print and supply items
Careers at Arkansas PBS
Arkansas PBS offers a variety of career opportunities in Production, Engineering, Marketing and Audience Engagement, Education, Finance and Administration, Operations, Information Technology, Programming, and Development/Fundraising.